You never know when you'll need your first aid kit

Being prepared for emergencies is a fact of life for Queenslanders, where our summer storm season means we're all too often forced to expect the unexpected.
However, a quality first aid kit can make all the difference when disaster does strike and is something you should aim to have close to hand, no matter the season.
You can buy a first aid kit or assemble your own, but either way you'll need to put some thought into its contents and whether they meet the needs of you and your family.
First aid kits can be bought from a number of suppliers, including St John Ambulance and the Australian Red Cross. You might like to purchase an off-the-shelf kit as a starting point and then customise it for your needs.
A basic first aid kit should contain: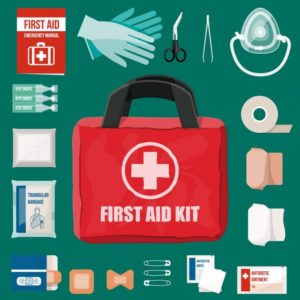 crepe and elasticised bandages of varying widths
hypoallergenic (skin) tape
triangular bandages
adhesive dressing strips (such as bandaids) in different sizes
gauze swabs
combine dressing pads (10cm x 10cm)
non-stick dressing pads (7.5cm x 10cm)
sterile eye pad
alcohol swabs
stainless steel scissors (sharp/blunt) 12.5cm
disposable gloves
stainless steel pointed splinter forceps (tweezers)
shock (thermal) blanket
safety pins
notepad and permanent marker
sterile saline tubes/sachets
disposable resuscitation face shield
antiseptic skin swabs
stop itch cream
first aid booklet
rubbish bags for disposing of waste
For more information on First Aid Kits go to: https://www.health.qld.gov.au/news-events/news/create-buy-own-first-aid-kit-queensland