BreastScreen Queensland's Mobile Breast Screening Service will be visiting Edmonton from 6-17 January 2020.
Located next to Balance! Family Practice on Walker Road.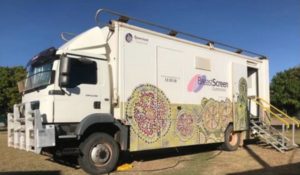 Eligible female patients attend for a FREE breast screen while the Service is in Edmonton. This 'well woman' Service provides asymptomatic women aged 50-74 years with the opportunity to have a free mammogram every 2 years. Women in their 40s and those aged over 75 are also able to attend the free Service.
While no doctor's referral is required to attend for breast screening at our Service, research indicates that a recommendation from a GP or health professional is a significant factor in recruiting women to the BreastScreen Queensland Program. Women with a past history of breast cancer are eligible to re-join our program after they have completed 5 years of follow-up with their specialists.
Click here for brochure: Edmonton Mobile Flyer 2020
Bookings can be made by phoning 13 20 50, or online at www.breastscreen.qld.gov.au.
A lovely night at Vivaldis Restaurant for the staff Christmas dinner.
Group Photo: Doctors, nurses and reception staff and partners.
Left to Right: Kerry, Noah, Helen, Dr Kresevic, Michelle, Dr Singh, Dr Ruchi, Dr Praga, Yve, Dr Bernard, Kiani, Cathy, Charlotte, Jason and Mrs Singh.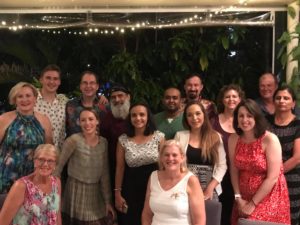 The Doctors: Dr Kresevic, Dr Singh, Dr Ruchi, Dr Praga and Dr Bernard.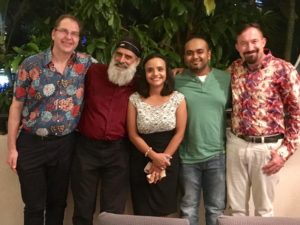 Reception Staff: Michelle, Noah, Sharon, Yve and Cathy.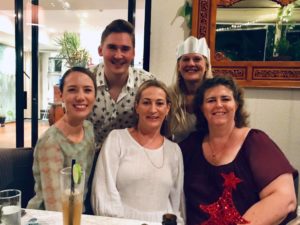 November was Movember Month
And it was all about Men's Heath.
Supporting this great cause was our nurse Helen.
This was the last Friday of the month of November.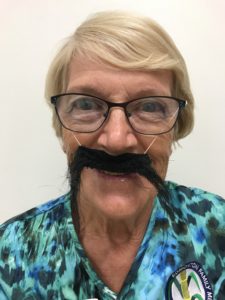 and if you missed the previous weeks here they are:
Left to Right: Week 1, Week 2 (Helen and Kiani), Week 3 and Week 4, 
To learn more go to: https://au.movember.com/


Heart Health Program
The Heart Health Program aims to help you increase your physical health and wellbeing through practical exercise, nutrition and lifestyle management support. The program runs for 52 weeks and includes regular physical activity sessions tailored to your needs and fitness level and 12 health education modules.
The program covers a range of topics including setting healthy goals, nutrition and healthy eating, physical activity, chronic conditions, quitting smoking, responsible alcohol consumption, back care, stress management and maintaining a healthy heart.
The program is offered in two formats – the Heart Health Group Program and the Heart Health Individual Program.
Why should I register for the Heart Health Program?
Physical health is vital to your mental health and your overall quality of life. There are a number of benefits to a daily routine of exercise and balanced nutrition.
What are the Benefits?
 increased energy levels and fitness
maintain a healthy weight
 prevent chronic diseases like heart disease, type 2 diabetes, and certain types of cancer
greater mobility in spine and joints
learn healthy eating practices
stress management and better sleep
 improve your strength, flexibility and co-ordination
better relationships and new friends
Most people want to improve their health but find it hard to get started. Registering for Heart Health gets you started and keeps you going on the path to new lifelong health habits. Changing our routines to improve our health can be challenging. The Heart Health Program gives you the skills to improve and sustain your health and wellbeing by giving you practical information and access to specialist advice and training.
Call the Veterans Heart Health program on 1300 246 262 to enrol now

November is Movember Month
And it's all about Men's Heath.
Supporting this great cause are our nurses Helen and Kiani.
Watch this space and see Helen's mustache growing during the month of November.
Left to Right: Week 1, Week 2, Week 3 and Week 4, one more week to go….
To learn more go to: https://au.movember.com/

A fun day at the Edmonton Family Medical Centre
We hope you all had a wonderful day and were lucky enough to backed a winner.
Many thanks for the compliments from our patients throughout the day which was lovely.
Our lucky sweep winners for the $5 sweep and $2 sweep were:
1st Prize: Michelle and Noah
2nd Prize: Noah and Kerry
3rd Prize: Tanya and Yve
And we had a lucky prize winner for the day which was Sylvia.
Your friendly and helpful Melbourne Cup Day staff – Left to Right: Noah, Sharon and Yve .
We hope all our clients had a wonderful Halloween
It was a spooktacular day at the Edmonton Family Medical Centre yesterday which brought smiles to many of our patients.
Seeing some of the parents bring in their children dressed up in costume was wonderful.
We all ate gummy eyeballs and zombie marshmallows, and some enjoyed a spookylicous hot zombie chocolate.
Your friendly and helpful Halloween staff – Left to right: Michelle, Yve and Cathy


Congratulations to Edmonton Family Medical Centre on achievementing AGPAL accreditation.
Edmonton increased its community health credentials last week when Edmonton Family Medical Centre received a national award of accreditation, demonstrating its commitment to quality and safety within its practice. 
Edmonton Family Medical Centre  received this important recognition from Australian General Practice Accreditation Limited (AGPAL), the leading not-for-profit provider of general practice accreditation services within Australia.
AGPAL Chair, Dr Richard Choong, said accreditation shows the practice makes a significant investment and commitment to quality on a day-to-day basis, across all levels of the practice team.
"Achieving accreditation is a major achievement for any practice and a clear demonstration that Edmonton Family Medical Centre  is striving to improve their level of care to both patients and the community," he said.
"Practices seek accreditation because they want to do their best and view this as another step towards excellence in patient care."
To achieve accreditation, a practice team works over a 12 month period to implement the Royal Australian College of General Practitioners (RACGP) Standards for general practices, the recognised national standard for general practices, that provides a template for quality care and risk management.
The AGPAL accreditation program was developed to provide a range of minimum expectations for patients surrounding safety and care by assessing the practice environment and their processes. Accreditation was developed jointly by AGPAL and primary health organisations and peak bodies, including the Australian Medical Association (AMA). 
Areas of focus during an on-site assessment for accreditation include: ensuring vaccines are within their use-by-date and stored at the correct temperatures, that the practice equipment is clean and sterile, practice staff are up-to-date with their training, and the practice has emergency care available.
Dr Choong said accreditation is attainable only through cooperation and communication between staff members. 
"Everyone at the practice plays a valuable role in working to meet the RACGP Standards. It gives staff a real sense of pride to work in an accredited practice," added Dr Choong.
Edmonton Family Medical Centre  proudly displays the AGPAL Accredited Symbol for all their patients to see.
"We want community members, nationwide to know that their wellbeing is our priority. By choosing to attend an accredited practice, patients know they will get quality and safe care that meets the RACGP Standards."
AGPAL is the leading not-for-profit provider in general practice accreditation services; for further information on AGPAL please visit www.agpal.com.au or free call 1300 362 111.