Edmonton Family Medical Centre Turned Pink for Breast Cancer Awarness Month
Our normally blue/teal clinic turned pink in October to show support for Breast Cancer Awareness Month.
Our doctors, nurses and reception staff dressed in pink and/or wore pink ribbons for this day. We managed to catch the early birds for a few photos with Dr Kresevic looking the part in his pink shirt.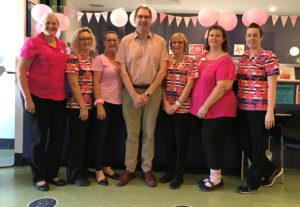 Dr  Anthony Kresevic with nurses and reception staff: Yve, Tania, Sharon, Dr Kresevic, Sylvia, Cathy and Charlotte.
Nurses: Tania, Charlotte and Sylvia.  Reception: Sharon, Yve and Cathy.
These socks were so cute giving everyone a good laugh and therefore deserved a photo on there own. Our ribbons.